De fleste af de nedenstående tegninger er doneret af Draganfly Motorcycles februar 1997
Tankene blev håndmalet så der var en del variation fra tank til tank, og fra side til side på den enkelte tank.
Det bedste resultat opnås ved at markere den bagerste del af sidepanelet med gummi-knæpuderne på plads.
Selv fabriksmalingen kom tit meget tæt på eller sågar under knæpuderne.
Fra midten af 1949 til midten af 1950 blev mange Square Fours, iflg. Works Despatch Books leveret med VH-tank.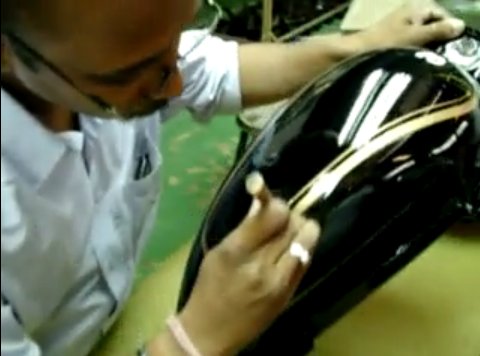 Staffering i hånden
Til venstre et link til en film der viser håndstaffering af en tank. Godt nok er tanken til en RE, men her kan man se hvordan det gøres, og så er det jo bare at klemme på;-)
Læg iøvrigt mærke til at placeringen af stafferingen er trukket op med hvid farveblyant, inden penslen kommer frem.

Most of the drawings below were donated by Draganfly Motorcycles to the AOMCC febuary 1997,
and are published here with the kind permission of Roger Gwynn.
Points to note are:
Tanks were handpainted so that there was a certain amount of variation from tank to tank
or from side to side of the one tank. For the best results the location of the rear of the side 'D' panels
should be finalised with the rubber kneepads in position.
Even the works lining sometimes came close to or even under the knee-pads.

From mid-1949 to mid-1950 many Square Fours are noted in the despatch Books as having a VH tank.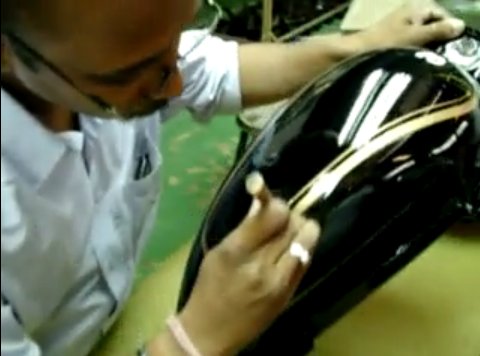 Hand pinstriping
To the left a link to a short film showing how hand-pinstriping is done. Yes the tank is for an RE, and unfortunately has no pointed ends as on a real motorcykle, but you have to admire the skill, with which it is done.
Note that the stripe-line is marked with white pencil before paint is applied.